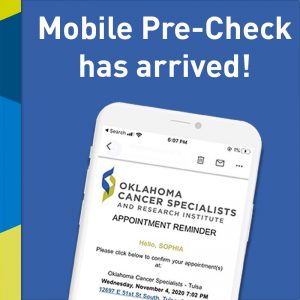 Clearwave has arrived at all OCSRI locations!
OCSRI has partnered with Clearwave, a service offering our patients an opportunity to pre-check ahead of scheduled appointments using a personal mobile device or computer.
While completing pre-check patients will be able to verify and update demographic and insurance information, eliminating the need to do this at the office.
Once a patient arrives in office, they will then be able to check-in via a kiosk or tablet and make payment before proceeding to the front desk to collect their bracelet and finalize their check in.
Don't worry if you forget to pre-check. You can check in using one of the kiosk or tablets when you arrive to the office. Staff will be on hand to answer any questions you may have regarding the process.
Notifications
This rollout of Clearwave also means an increased number of notifications will be received from OCSRI prior to scheduled visits.
We understand that these may seem confusing at first as we work to get this information out to you but hope that as we progress you will find these helpful. We want you to be as informed as much as possible regarding your schedule prior to you arriving in office for your appointment.
Listed below are examples of reminders and notifications you will receive and when we would expect you to receive them.
Appointment reminders – These are scheduled to go out 48 hours prior to your appointment.  These reminders will be delivered by phone call or text message, depending on your listed preference in your chart.
Pre-check notifications – These are also scheduled to go out 48 hours prior to your appointment.  You will receive these notifications via text, email, or both if both forms of communication are provided in your chart.
*Please Note that completing the pre-check notification will provide you an opportunity to complete any necessary paperwork as well as verify your demographics and insurance prior to coming into the office, saving you time in line, and speeding up your check in process.
Second pre-check notifications – You will only receive this notification if you did not complete the pre-check with the first notification sent.  This second notice will go out 1 day prior to your visit.
Visitor Policy – 24 hours prior to your appointment you will receive either a call or text outlining our visitor policy we have in place at time of your appointment.  As we continue to monitor Covid-19 in our area, this is a policy that can change based on current guidelines and health trends so we want to make sure we are getting this information out to as accurately as we can before you arrive for your visit.
We respect you and your time! It is our intention that these notifications will help keep you informed and up to date on your upcoming appointments.
If you have any questions, please feel free to speak to anyone of our staff at the front desk during your next visit.