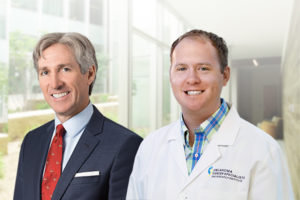 OCSRI welcomes Drs. Grenville Jones and Eric D. Thomas to our main Tulsa location. Dr. Jones specializes in radiation oncology. While serving as an attending physician in Maine and Massachusetts, Dr. Jones implemented new IMRT and brachytherapy programs, designed to focus radiation on cancerous cells and not surrounding healthy tissue. He is experienced in high dose rate prostate brachytherapy and low dose rate gynecologic brachytherapy and has done research into various topics within radiation oncology.
Dr. Thomas specializes in gynecological oncology and focuses his work and interests on novel treatments for ovarian cancer, which target the disease through the use of immunotherapy. He is a member of the Society of Gynecologic Oncology American Medical Association, Oklahoma State Medical Association, and Alabama State Medical Association. Join us in welcoming these talented, new providers!
Visit the Our Team page to learn more about these and our other amazing doctors and staff.