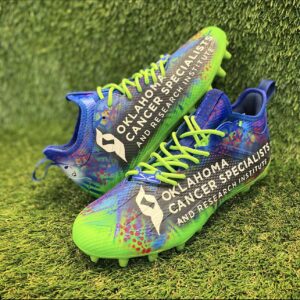 NFL wide receiver Tyler Lockett features Oklahoma Cancer Specialists and Research Institute on pregame cleats
Tulsa, OK — Tyler Lockett, wide receiver for the Seattle Seahawks, has been highlighting his hometown of Tulsa through artistic renderings on his pregame cleats this season. Lockett then features the cleats and honors the Tulsa-area tribute in his own words on his Instagram. Lockett debuted cleats featuring Oklahoma Cancer Specialists and Research Institute (OCSRI) before Seattle's game on December 5 with a message of encouragement to those fighting cancer. OCSRI is the region's most comprehensive cancer center.
[WATCH] ABC News Channel 8 Interview with OCSRI
OCSRI is grateful for Tyler's recognition. This highlight comes at a particularly important time, as some cancer screenings – such as breast cancer and cervical cancer screenings – are down nearly 90% during the pandemic according to the CDC. Screening has the potential to detect precancerous lesions and cancers in their earliest stages, when they might be most treatable, and before symptoms appear. Delays in screening could lead to later stage diagnosis and a need for more aggressive treatments. OCSRI thanks Mr. Lockett for using his platform to highlight OCSRI and encourages everyone to make their health a priority by scheduling their annual screenings.
[WATCH] Fox23 Interview with OCSRI
All season long, Lockett has taken the opportunity to showcase a pair of cleats that represent schools, businesses and organizations from the Tulsa community. You can see all of his tributes on his Instagram.
About OCSRI
OCSRI is a leader and patient-centric oncology institute providing renowned multidisciplinary care empowered by progressive clinical research. As a physician-owned network rooted in Tulsa, Oklahoma, we are driven by compassionate relationships and a commitment to excellence. With a team of nationally accredited specialists, we provide personalized treatment, transparent counsel and advanced technology to deliver the most effective care possible.