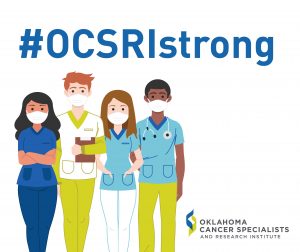 Please join me in honoring our OCSRI nurses this week during National Oncology Nurse Week 2020.
Truly, we will not forget 2020 and the COVID health crisis. Many have stated that this is the year where nurses became "superheroes". Yet, in a "few" or "not so few" words, I want to commend our OCSRI nursing staff, taking pride in our profession and roles these individuals play in supporting our physicians, in the delivery of care to our wonderful oncology patients, and in the clinical operations of this organization. Our nurses remain steadfast in their care and commitment in providing selfless care to our patients and/or providing other clinical/administrative support to our organization.
At the frontline of a world health crisis, the skill, commitment, and compassion of our own OCSRI nurses during the coronavirus pandemic has continued to make an impact and difference each and every day. OCSRI extends our heartfelt appreciation to our staff of 90 nurses. Thank you for your work of the heart and for being our superheroes!
Ruth Dunn, RN, BSN, OCN
Executive Director
Nurses day educational in-service lunch from long time OCSRI sponsors. Social Distancing at its best! OCSRI loves its nurses.