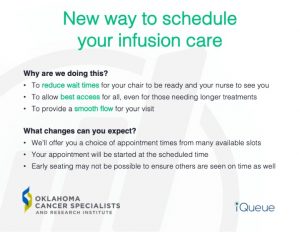 On Monday, September 14, 2020, OCSRI will begin using a new infusion scheduling system to optimize appointment times. This will help our infusion services run more smoothly from start to finish and, ultimately, get you in and out in a timely manner.
Why are we doing this?
To reduce wait times for your chair to be ready and your nurse to see you
To allow best access for all, even for those needing longer treatment
To provide a smooth flow for your visit
What changes can you expect?
We will be offering you a choice of appointment times from many available slots
We will get your appointment started at the scheduled time
We may not be able to seat you early to make sure that others are seen on time as well