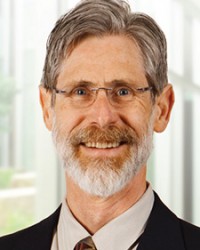 Dr. Steven Buck retired on 5/31/2020. He continues to support OCSRI patients through part-time PRN services.
Dr. Buck graduated from Phillips University in Enid, Oklahoma, completed postgraduate studies at the OU Health Sciences Center, and is a graduate of the OSU College of Osteopathic Medicine and Surgery. He completed his residency at OSU Medical Center and his fellowship at Roswell Park Memorial Institute at the State University of New York, Buffalo.
Dr. Buck is board certified by the American Osteopathic Board of Internal Medicine in internal medicine and medical oncology and is a Fellow of the American College of Osteopathic Physicians. He is a past Chief of Staff at OSU Medical Center, past Chairman of the Osteopathic Founder's Foundation and a recipient of their Physician of the Year Award for 2006. Dr. Buck continues to provide lectures at the OSU Medical College and participates in postgraduate resident training as an Adjunct Clinical Assistant Professor of Medicine. His area of special interest is lung cancer and wellness screening.
Training
Residency, Oklahoma State University Medical Center
Fellowship, Roswell Park Memorial Institute, State University of New York, Buffalo
Education
Phillips University
Health Sciences Center, University of Oklahoma
College of Osteopathic Medicine and Surgery, Oklahoma State University
Licensures and Certifications
American Osteopathic Board of Internal Medicine
Fellow of the American College of Osteopathic Physicians
---