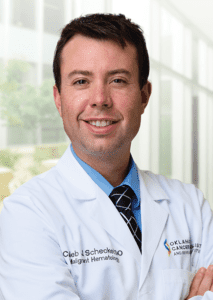 Dr. Caleb J. Scheckel is a native Tulsan who received a bachelor's degree in finance and medical degree from Oklahoma State University. He completed a residency in internal medicine at Mayo Clinic Arizona and a fellowship in hematology and medical oncology at Mayo Clinic Minnesota. He concurrently completed a fellowship in healthcare policy from the American Osteopathic Association.
Dr. Scheckel has a passion for clinical trial development and has partnered with pharmaceutical companies developing novel applications of established therapies. His research has focused on quality improvement, safety, healthcare policy and medical economics. He maintains a position as a research collaborator with the Mayo Clinic Division of Hematology.
Dr. Scheckel's clinical interests and focus include cancerous and non-cancerous blood conditions.
EDUCATION
Oklahoma State University
Mayo Clinic School of Graduate Medical Education
LICENSURES AND
CERTIFICATIONS
American Board of Internal Medicine: Medical Oncology and Hematology
Certified Opioid Dependence Clinician
Mayo Clinic Quality Fellow
American Medical Association Member
American Osteopathic Association Member
Service Location:
---