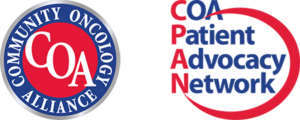 Join the Oklahoma Cancer Specialists CPAN Chapter for our next educational event on Thursday, October 4, 2018 at 4:00 pm.
During this event you will learn how:
Prior Authorization undermines the ability of community oncology clinics to treat their patients.
Prior authorization takes doctors' time away from direct patient care.
Prior authorization causes inconsistent patient treatment outcomes.
Guest Speakers:
Maureen Brannon, RN, OCN, CPAN Advocacy Leader
Maegan Stoffel, Manager Patient Services
For more information or to RSVP: maureen.brannon@ocsri.org
Oklahoma Cancer Specialists and Research Institute12697 East 51 st South, Tulsa, OK 74146
Resources: