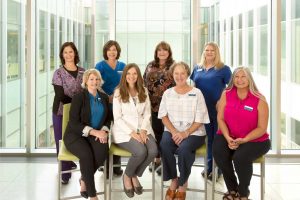 TULSA, Okla. (Sept. 18, 2019) – The 2019 Great 100 Nurses of Oklahoma honorees have been announced, and eight of those honorees work with the Oklahoma Cancer Specialists and Research Institute (OCSRI). These honorees include Rebecca Armstrong, Patricia Mayhugh, Rebecca Brogdon, Meschelle West, Tami Potteiger, Pamela Doak, Maureen Brannon and Ingrid Kimbrough.
The Great 100 Nurses Foundation was founded by PK Scheerle in order to honor nurses in Louisiana, North Carolina, Texas, Oklahoma and Arkansas. Nurses are chosen based on their concern for humanity, their contributions to the profession of nursing and their mentoring of others.
To be inducted into such a select group of extraordinary professionals is an incredible honor, but those named to the group are not after accolades or awards. They enter their profession to serve others.
Honoree Pam Doak has been in nursing for 35 years and said nursing is a calling that provides great opportunities to serve and impact the lives of others.
"It is also one that gives back more to yourself than you can ever hope or imagine to receive," said Doak.
Another honoree, Rebecca Armstrong, added that being a nurse provided her with a sense of accomplishment in caring for others in different seasons of their lives.
"Nursing will be what you make it," said Armstrong. "I've been in nursing for 45 years and for me, it is my mission field: caring for patients physically, emotionally and spiritually. It has been an honor and a privilege to care for the many patients who have crossed my life."
Chief Nursing Director Ruth Dunn shared that the doctors and staff at OCSRI are proud of their well-trained oncology nursing staff, which has been consistently awarded for their excellence.
"It is with great pride that Oklahoma Cancer Specialists and Research Institute honors the eight nurses selected as nominees for 2019 Great 100 Nurses of Oklahoma," says Dunn. "We have now had 25 nurses receive this great honor. We honor these individuals for their compassion, focus on patient-centered care, and dedication and commitment to the nursing profession."